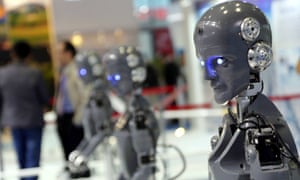 A "robot revolution" will transform the global economy over the next 20 years, cutting the costs of doing business but exacerbating social inequality, as machines take over everything from caring for the elderly to flipping burgers, according to a new study.
As well as robots performing manual jobs, such as hovering the living room or assembling machine parts, the development of artificial intelligence means computers are increasingly able to "think", performing analytical tasks once seen as requiring human judgment.
In a 300-page report, revealed exclusively to the Guardian, analysts from investment bank Bank of America Merrill Lynch draw on the latest research to outline the impact of what they regard as a fourth industrial revolution, after steam, mass production and electronics.
"We are facing a paradigm shift which will change the way we live and work," the authors say. "The pace of disruptive technological innovation has gone from linear to parabolic in recent years. Penetration of robots and artificial intelligence has hit every industry sector, and has become an integral part of our daily lives."
However, this revolution could leave up to 35% of all workers in the UK, and 47% of those in the US, at risk of being displaced by technology over the next 20 years, according to Oxford University research cited in the report, with job losses likely to be concentrated at the bottom of the income scale.
"The trend is worrisome in markets like the US because many of the jobs created in recent years are low-paying, manual or services jobs which are generally considered 'high risk' for replacement," the bank says.
low-paying jobs such as service occupations, and a hollowing-out of middle income manual labor jobs."
expected to reach $152.7bn (£99bn) by 2020, and estimate that the adoption of these technologies could improve productivity by 30% in some industries.
To read the entire article and comments in the Guardian please go to:
http://www.theguardian.com/technology/2015/nov/05/robot- revolution-rise-machines-could-displace-third-of-uk-jobs